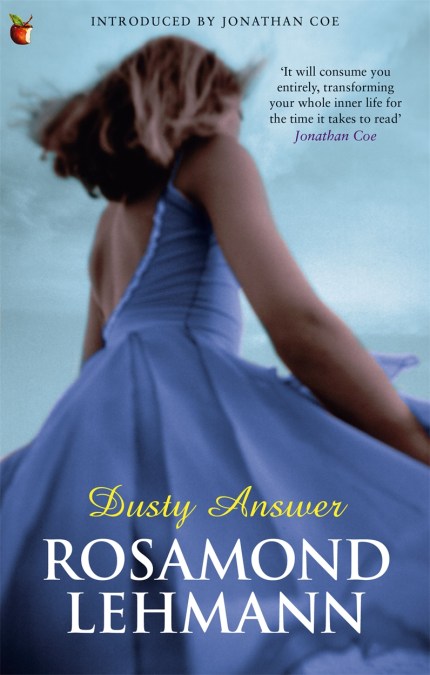 I'm teaching McEwan's Atonement this year for the first time, and this has sent me off in search of all the works which have influenced McEwan's novel. Some of the texts are familiar to me – The Go-Between, Brideshead Re-visited, anything by Woolf – but I hadn't read Rosamond Lehmann's Dusty Answer (1927). In fact, and to my shame, I hadn't read anything by Lehmann. And now I'm wondering how on earth I haven't done so earlier – I loved this novel. Now, for those still to read Atonement or Dusty Answer, a warning – plot details ahead.
The link between Lehmann's Judith and McEwan's over-imaginative Briony is immediately obvious, but this similarity runs deeper still when you consider the unreliability of Judith's narrative – whilst we're told in the second paragraph 'in truth all was different now', it becomes clear that Judith's narrative is both intensely felt and highly subjective. Judith, wilfully or otherwise, doesn't always see what is evident to the reader, or what other characters try to make obvious. The truth is something she arranges to suit herself.
As is the case with Atonement, this is a novel about what might be and what might have been. It is also about forbidden romance (whilst it shocked some contemporary readers, it escaped the fate of Radclyffe Hall's The Well of Loneliness, published a year later). Judith, a lonely child, becomes in thrall to the family of cousins connected to the house next door. As she grows up, she longs to become a part of their world, and falls in love with Roddy, the 'young man, with features a trifle blurred and indeterminate, as if he had just waked up; the dark hair faintly ruffled and shining, the expression secret-looking, with something proud and sensual and cynical, far older than his years.' Judith's years at Girton are marked by an intense friendship with Jennifer, a young vivacious woman who is 'more alive than most people', and their relationship develops into an intensity broken only by Jennifer's sudden removal from college. The fluidity of Judith's relationships with the Fyfes and with Jennifer heighten the sensual quality of Lehmann's descriptions, and also remind me of Woolf's female characters and their relationships (more on this in a later post, hopefully). Unlike Atonement's Cecilia, Judith achieves academic success at Girton but, rather tellingly, also returns to a somewhat empty life at home immediately afterwards. It's a reminder that although Cambridge accepted female undergraduates by this point, it remained very much a place for young men – when Judith revisits it, she feels that 'under its politeness, it had disliked and distrusted her and all other females; and now it ignored her.'
Unlike Atonement's main narrator, Judith tends to feel regret, rather than an overwhelming guilt, about her actions. Being the story of her development, her regrets are part of her development into the creator of a text of sorts (McEwan obviously makes this a more explicit feature) and she works to shape her depictions of events from early on:
'And the grandmother wept bitterly, till in the end Charlie comforted her; and after that, implacably [Mariella] would give and sacrifice all to Charlie. No, no, that was too stupid, too abnormal. People only behaved like that in your unbalanced imagination.'
Admittedly, Judith is older than Briony at this stage, but the two young girls share a love of the dramatic, fuelled by their own reading. It takes Judith just a few fervid years to come to understand her role in events and her impact on the lives of the Fyfes, unlike the lifetime it takes Briony to try to her resolve the consequences of one hot summer evening when she was thirteen.
In some ways, the modernistic Dusty Answer, despite ending on a question, is perhaps going to leave the reader more satisfied than the post-modern 'trick' of McEwan's novel can – but both are brilliant, and one of the many joys of the latter novel are the echoes available for the reader wishing to go down the rabbit hole of literary connections. For me, it has also done that wonderful thing of providing a new author's novels to binge-read.