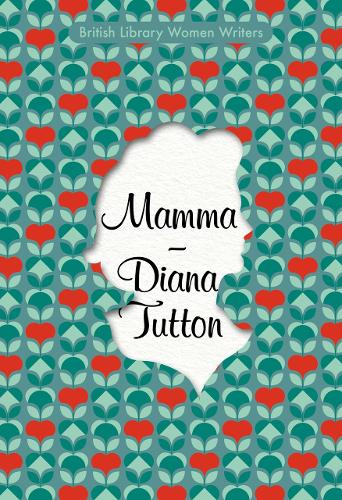 In other hands, this could have been an uncomfortable (or perhaps horribly salacious) read, concerning as it does a growing connection between a woman and a younger man. But Tutton is too good a writer for that, and this becomes a fascinating exploration of motherhood, aging, and the often uncomfortable acknowledgement of desire in anyone over 40. Women with younger partners still face misogynistic responses (even when the response masquerades as amused approbation) – there's a sense that such a woman thinks she's tricked the world and avoided the pitfalls of aging. Tutton avoids this trap, fortunately, but she does complicate the central relationship by having the younger man be Joanna Malling's new son-in-law.
Mamma, first published in 1956, is a compelling argument for the idea that women become more interesting, and therefore more attractive, as they get older. Joanna is actually only six years older than Steven – the key issue is of course, that he is the devoted husband of Joanna's beloved daughter, Libby (or Elizabeth as Steven calls her). Widowed at 21 with a young baby, Joanna has spent half of her adult life alone with her daughter. The love she feels for Libby is never in question, but she is also aware of her daughter's flaws when it comes to relationships. Libby has led a delightful life, is fastidious about her appearance, and keen to be all that an officer's wife should be. For his part, Steven is captivated by his much-younger wife and determined to make her happy. And this is the other element of the story that Tutton has done so well – it becomes clear that Joanna and Steven have so much more in common, because of their close ages, than Steven has with Libby. And yet the image of the husband with a much younger wife is so ingrained in stories that it goes almost unnoticed much of the time. Tutton's clever examination of this dynamic, often focusing as it does on the house all three share at one point, subtly checks and challenges glib ideas about women and desire.
'"Darling," said Steven, "have you got a morbid craving to see your own face all over your own drawing room?" Elizabeth seemed thoroughly taken aback." I – I thought you'd want it there!" "But I don't. I detest big photographs." "But – but everyone has their photographs in their drawing rooms!" "Do they?" said Steven thoughtlessly. "How extremely suburban!" Elizabeth blushed violently, and Joanna hurried to give her some support, although as it happened she entirely agreed with Steven.'
Mamma also focuses on the mother-daughter relationship, one which inevitably changes as the daughter assumes a new role, in this case as a wife. Joanna's adoration of her daughter is unchanging, even when the reader is allowed to see Libby's shortcomings. Libby is still very young and there's a touching naivety to her view of marriage. Both her husband and her mother place her at the centre of their world (but the fact they use different names for her reminds us that they both see her primarily as their own), creating a marvellous tension as their own relationship changes. This is a really interesting examination of close relationships, and female desire, and it is another excellent addition to the British Library Women Writers series.