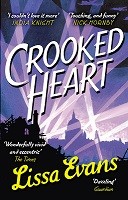 As regular followers may remember, I absolutely loved Old Baggage's Mattie Simpkin. Published as a prequel after Crooked Heart, it provided readers with Mattie's story in 1928. Crooked Heart, although the first of the two novels, moves forward a decade and Mattie, very sadly, is now suffering with dementia and 'looking after' a godson, Noel. This book is very much Noel's and Vee's story (more of her in a sec) but I'm very glad Evans went back and gave Mattie her own full story too, poignant though her life becomes in Crooked Heart.
I loved Crooked Heart as much as I loved Old Baggage. It is 1939, and Noel is part of the evacuation of children to 'safer' areas of the country. He ends up in St Albans as the ward of Mrs Vera Sedge. Vera, or 'Vee', is living on her wits with her grown son and aging mother to support; she doesn't have any qualms about using scams to get by, and the arrival of  the very bright Noel proves to be something of a godsend.
Crooked Heart takes as its focus the ways in which some saw the war as an opportunity to make a quick buck. The black market is thriving and there's money to be made if you know how to wangle it. But all such activity is illegal and carries with it the threat of prison or retribution from others also on the make. Vee and Noel get caught up in various nefarious situations and it is Noel's intellect that will prove invaluable. He is very much a child brought up by the indefatigable Mattie and he is another marvellous creation by Evans. She knows how to balance the poignant and the downright amusing nicely. Thank goodness she has already written a follow-up, V for Victory, which I'm able to start right now.